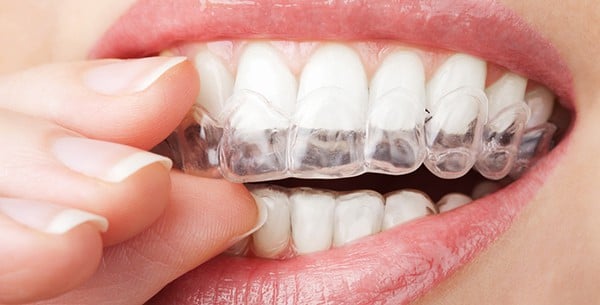 Getting your braces off is a big day and a feeling you will never forget! Your teeth look and feel super smooth, like glass. But your treatment does not end once your brackets are removed…there is a large misconception about what happens after braces. Retainers are the last step in your treatment and must be worn for life to maintain your smile investment! 
How Is a Retainer Created?
At Bovenizer and Baker Orthodontics, we have invested in the latest technology, and this is a differentiator in our office. Once a patient has completed their treatment, our technology comes into play. We complete an extensive 3D diagnostic image of the face, teeth and bones of the face. We use the 3D image of the teeth (so uncomfortable impressions are avoided) to import a STL file into our ULAB software. It is here where Dr. Bo and Dr. Baker look at the teeth again without any braces. If there are any movements to tweak on the teeth, this can be accomplished with our technology…even the slightest movements to a tenth of a mm. Once the 3D image is analyzed, we move over to our 3D printer where a mold of the patient's teeth is printed. This mold is used to make the retainer that the patient receives. Dr. Bo and Dr. Baker make two retainers for a patient, even if a permanent bonded wire is used on the lower arch. The patient is directed to wear their custom retainers at night for the remainder of their lives. Patients are also advised to keep the 3D model as a referent when a new retainer needs to be made. 
What are the Types of Retainers? 
We have three types of retainers in our office: a lower bonded lingual retainer, a Vivera retainer and an Essix retainer. Most patients receive a permanent, bonded wire on their lower front six teeth and then choose between a clear, plastic retainer that fits over top of the bonded, permanent retainer. The Essix and Vivera retainers are the two options for your clear, removable retainer and vary in price and material used. 
Dr. Bo and Baker use an overlay "suckdown" or clear, plastic retainer for many reasons: 
It acts like an Invisalign retainer and can be used for bleaching the teeth, if desired.

It is a great night guard for grinding. 

Most importantly, the retainer is very strict with tooth movement. We always say, "the retainer will not lie" in most cases. When someone comes to our office and has not worn their retainer, the teeth may shift ever so slightly and the retainer will be really tight or may not fit at all.  
How Do You Get a Retainer Replaced?
We tell all of our patients that retainers will need to be replaced throughout life. They will not last forever, nor do we want them to and it is a natural and healthy process to replace them. Many people think that they are going to "outgrow" their retainer that they received at 14 years of age, but that is not true. The retainer should fit when the patient is an adult. 
There are normally two scenarios when patients need a retainer replaced: 
They are previous patients of ours and have been compliant with wearing their retainer and their teeth have not shifted. In this case, all the patient has to do is bring in the 3D printed mold of their teeth and we can easily create a new retainer based on this mold. 

Patients who have not been compliant with their retainer wear and their teeth have moved slightly or drastically. If teeth have moved slightly, we can complete a digital iTero scan of the mouth and create a new retainer based on where the teeth are now. If the teeth have drastically shifted, the patient may want to look into being retreated with Damon Braces or Invisalign. 
It is so important to keep up with your retainer wear and remember to wear them consistently throughout your life. Learn more about retainers here.