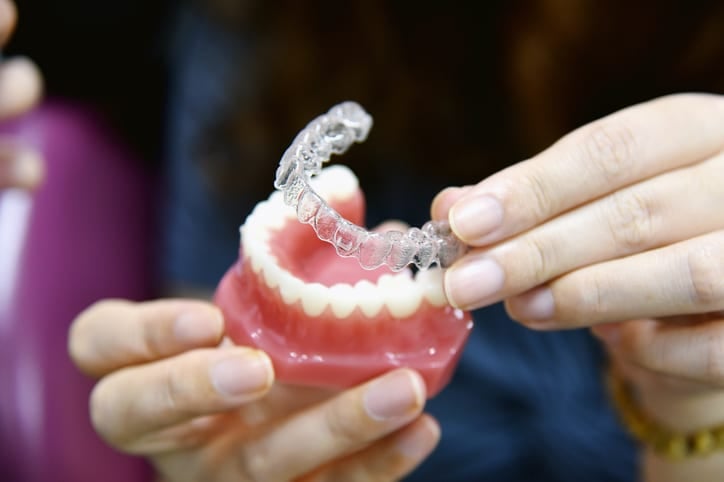 Invisalign aligners straighten your teeth by using a series of trays that are made specifically for you. First, a digital scan is taken of your mouth and bite. Then a set of trays are customized to gradually shift your teeth into the correct position. Invisalign trays are made with a clear, flexible plastic material and are usually switched out every two weeks for the next set of trays. 
How Are Aligners Different from Other Orthodontic Options?
We offer Damon traditional (metal) brackets, Damon clear brackets and Invisalign clear aligners in our office. The Damon System utilizes self ligating brackets that are affixed to each tooth and wires that are changed throughout treatment. On the other hand, Invisalign uses clear, plastic aligners that gradually straighten your teeth. 
Invisalign is definitely a more discreet treatment option, allowing you to take your trays out to eat, drink, and take photos, but it does require more responsibility than Damon braces. While you are able to eat what you prefer, unlike traditional braces that have restrictions, you must ensure that you are cleaning your teeth each time you eat or drink before you put your aligners back in. Invisalign also requires discipline to wear the trays 20-22 hours a day. 
How Do Invisible Aligners Straighten Teeth?
You will receive several sets of Invisalign trays, which you will switch out about every 2 weeks for a new set. Each tray is customized to fit your smile and gradually moves your teeth with gentle pressure (about 0.25 to 0.3 millimeters each time). Most treatment times range from 12 to 18 months. 
Attachments
Most patients receive Invisalign attachments, which are small, tooth-colored bumps that are bonded to specific teeth. These attachments are pressure points that help the aligners grip onto your teeth to more easily shift them into the proper position.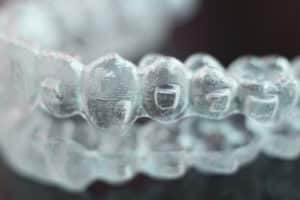 Elastics
Elastics are used throughout most orthodontic treatment types, including traditional braces and Invisalign. The rubber bands work to draw the top and bottom teeth into their proper alignment. Elastics are very tiny rubber bands that are used to help correct the alignment of your bite. With Invisalign, the elastics hook onto the Invisalign attachments. How many elastics are needed and where they are positioned will vary from patient to patient. Those details  will be customized to your specific treatment plan.
Interproximal Reduction
Some Invisalign patients will need a procedure called IPR, or Interproximal Reduction. IPR is the process of creating very small amounts of space between pairs of teeth in order to allow the teeth to move as needed during treatment. IPR involves reshaping or resizing specific teeth to help with crowding, eliminate black triangles, or to prevent the need for extracting a tooth. IPR is a minimally invasive procedure and does not cause discomfort.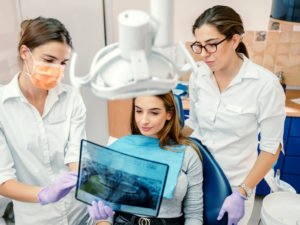 Learn More About How Invisalign Works at Bovenizer & Baker
Most people are great candidates for Invisalign treatment and love the discreet results it provides. However, more complex and severe cases are better suited for traditional braces. The best way to find out which treatment option will work for your smile is to schedule a free new patient consultation at our office. We will take photos of your teeth and an x-ray, and Dr. Bo or Dr. Baker will lay out a treatment plan for you. We will also provide a quote with cost (including insurance benefits) and treatment length. Call or text our office at 919.303.4557 or make an appointment for a consultation. We can't wait to start your orthodontic journey with you!