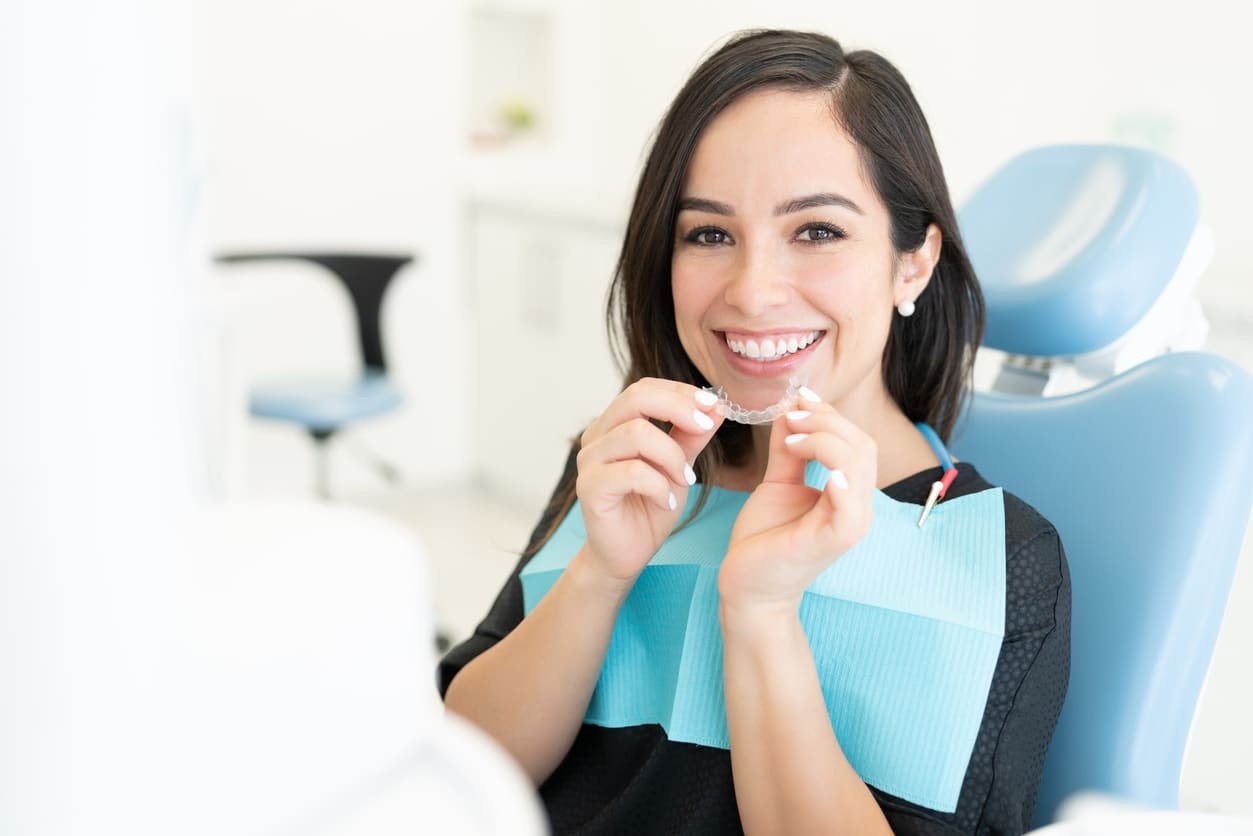 Maintaining and caring for your Invisalign trays is a large responsibility, and you must ensure that you are following the eating and drinking guidelines throughout your orthodontic treatment. Invisalign is a clear, discreet way to straighten your smile, allowing you to take the aligners out to take photos and to eat and drink. 
Can I eat with Invisalign in?
While the discreteness of Invisalign and the ability to eat what you want are major pros, ensuring that you are eating and drinking only when your trays are out is extremely important. The only time you don't have to remove your trays is when you are drinking water. Eating with Invisalign in can damage your trays, as the force of your teeth are very strong when you chew. The trays can become cracked, stained or damaged if they are left in while eating or drinking.  Remember, you can eat or drink whatever you want as long as you remove your Invisalign trays first.
After Eating
Keeping your teeth clean throughout your Invisalign treatment is very important to prevent cavities and to avoid bacteria collecting under your trays. You should brush your teeth after every meal. If you are unable to brush your teeth, then thoroughly rinse your trays with water or try chewing some sugar free gum before putting your trays back in. 
What food and drinks to avoid with Invisalign
While you can eat or drink whatever you want while your aligners are out, that doesn't mean you should. There are several foods that we recommend avoiding during your Invisalign treatment, including:
Coffee and Wine:

Drinking dark colored liquids with your aligners in can easily stain your teeth, and even if you have your aligners out, coffee can easily stain your attachments. Hot drinks can also distort the shape of your aligners due to the hot temperature. 

Sodas:

Sugary foods and drinks can feed the bacteria in our mouth which promotes tooth decay and bad breath. 

Gum:

Chewing gum with your aligners could cause damage to them, as they may stick to your trays or the constant chewing motion can cause the aligners to crack or become damaged. 

Hard Food and Candy:

Things like potato chips, pretzels, crusty breads, jawbreakers, or nuts can be hard enough to push your teeth out of alignment or cause cracks/chips in teeth. 

Sticky or Chewy Items:

Sticky foods can remain on the surfaces of teeth after eating which can cause a buildup of plaque, tartar and bacteria.

Let us help you get the most out of your treatment
Invisalign is a great, discreet way to straighten your teeth, but treatment does require a good amount of responsibility. Ensuring that you clean your aligners often, brush your teeth after each meal and stay away from foods that could damage your aligners are key to ensuring your Invisalign treatment goes smoothly. 
Now that you know what happens if you eat with Invisalign in, you're better equipped to handle the responsibility of wearing clear aligners. If you are ready to start your Invisalign journey today, you can book your free new patient consultation here to find out all the details of what your treatment would look like, including cost, length and insurance coverage.